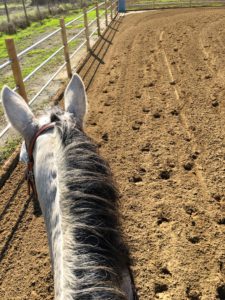 Let me tell you a story about how I am Challenging Myself and Getting Over Fear in 2020! 2020 is the year I overcome my fear and for Dori and I to get it done!
Introduction to me and my business
First, let me introduce myself, for those of you that don't know me, I am Sarah. I own and operate SL Barrel Horses out of LoneStar Riding Academy, a small private facility in San Juan Bautista, Ca where I have been teaching and training at LSRA since 2015 but opened SLBH at the beginning of 2012. My specialty is barrel racing and gymkhana with a lite background in cutting, reining and some reined cow-horse. My passion is teaching our youth all about horses and watching them grow and succeed in the show pen.
The Whole Story
Okay, now let's get to my story, which may get long.
In 2012, I bought a coming 3-year-old mare. Dori was supposed to be my up and coming barrel prospect. She had a nice handle on her but wasn't anywhere close to finished. That was supposed to be my job. I rode her off and on for a year because other than my round pen and open field; I would have to haul out to ride her. SO it was a struggle to finish her.
When she was 5, we were making some progress; however, consistency was lacking, and we had a wreck. Nothing serious in terms of injury occurred, just my confidence, my ego, and my pride. When I say wreck, basically what I mean is, she took me to the dirt intentionally. I was asking my mare to follow her nose around to the left in a small circle. She hit a metaphorical brick wall and decided she couldn't do it. She stuck her right shoulder out and started walking to the right, where ultimately, she fell with me because I still had her nose pulled to the left. I had time to kick my feet out but landed on my shoulder and scraped up my elbow. What was injured the most was my confidence.
My Personal Itty-Bitty Shitty Committee
For the last five years, I have struggled to swing a leg back over this mare. I have several horses at the barn with various levels of training from green broke to finished. I haven't had an issue swinging a leg over any of them. There is a little voice in the back of my head that I call my inner critic (Jane Pike from Confident rider calls it "The Itty-Bitty Shitty Committee").
My inner critic has paralyzed my ability to ride my grey mare. However, my work with Jen Rohlen from Horsegirl.me has taught me that I can ride my grey mare. I am using 2020 to get things done because I believe in me and I believe in her and I. In 2019, I bought a helmet and every time I swing a leg over Dori from now on, I will have my helmet on.
The Plan
So now, let's get it into the nitty-gritty of how I am going to be barrel racing on Dori by the summer of 2020.
I am going to teach Dori how to ground drive, and this will remind her of all the cues necessary to being ridden.
We will be doing the tapping I am learning from Jen and Charlotte Cannon at Horsegirl.me.
On days I can't ride (for whatever reason), I will do groundwork under saddle in the round pen or on a lunge like.
I will be hauling Dori to LSRA every Thursday and every Saturday (carving out time to work with her between lessons and other horses)
Just do it! It is our time, and nothing will hold us back!!
So if you made it through my story, thank you so much! If you have any questions, please feel free to leave them at www.facebook.com\slbarrelhorses.