Who is your competition in the barrel or gymkhana pen?
Do you know who your competition is in that barrel or gymkhana pen? I DO!!
Your only competition is YOU!! You heard me right! The only competition you in that pen is you.
Do you know why your only competition is you?
It is because no one else matters. No one can ride for you, so you are the only one to ride PRs you, who can improve your abilities, be humble for you!
Will you be out-rode and out-shown? Probably!
Does that matter? Absolutely NOT!!
Every time I step foot in the arena, my only focus is, how can I be my best me for my horse? I review my timesheet before each show, look at my videos and figure out what I need to do to improve my times, complete my patterns, practice good horsemanship and good sportsmanship.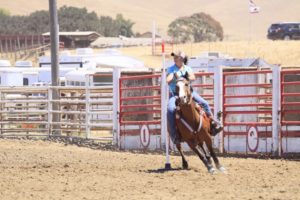 One of the major reasons I took to barrel racing and later gymkhana is because it is just me and a clock. There is no judge to tell me that I suck! That doesn't mean that people aren't judging you (you are judged every day of your life); it just means that you should be the only one judging you! I competed in "western pleasure" one time at a 4H horse show as a youth and the judge never looked at me. Why? Because my horse wasn't a fancy $10k+ horse, my saddle was my dad's saddle with zero silver and we weren't fancy.
However, when I entered the gymkhana at the same show on the same horse in the same tack, I won blue ribbons. Barrels and gymkhana can be about that fancy horse in fancy tack, but it is also about those of us on our backyard ponies in cheaper tack, just trying to have fun.
Each time you step foot in the arena, set your own goals, work on yourself and forget everyone else. Three goals I set for myself each show are:
Beat my current PR.
Don't hit any obstacles (still working on that one)
Just have FUN!!
So anytime you are wondering who your competition is, LOOK IN THE MIRROR!!
Head over to our Facebook group and tell me 3 goals you have for your next show.